Workforce is, and will be for the foreseeable future, the number one challenge businesses face today. MCEDC has undertaken a number of initiatives to address workforce issues both today and into the future.
Putting People to Work Today: Currently over 54% of Medina County residents leave the county for work. In addition, there are a number of our residents who are not in the workforce today. Through www.worklocal.net and our Job Opportunity Tours, we are working to keep workers in the county and get everyone into the workforce.
Building our Pipeline: We are working closely with all of our schools to help students understand the job opportunities here in the county. MCEDC staff sits on all 10 of the business council advisory boards and two Career Based Intervention Advisory Boards, we organize high school job fairs, participate and promote career days, create resources for guidance counselors, assist with the creation of capstone programs, participate in Parent Ed Camp, we are creating plant videos to use in classrooms, we are mapping graduation-approved certification programs, we are developing a high school intern program and will employ the test case, and we are working to hire a career counselor to share with all seven of our school districts. For more information on our pipeline building efforts, visit Pipeline.
We also work closely with our Higher Education partners and those institutions can be accessed here.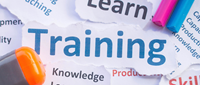 Training and Retention: Once an employee is hired, it is vital to keep that employee as long as possible. Some of the ways our employers do so is through training and we have provided www.trainingmedinacounty.com to help identify the right program for your training needs.
Made in Medina County The Made in Medina County effort is a collaboration of our cities, chambers, leadership organization, economic development partners and manufacturers to promote manufacturing as a brand as well as a great career choice. Educating our communities on the products made here in the county helps increase the worker pipeline and help residents embrace the manufacturing community.