Medina County. . .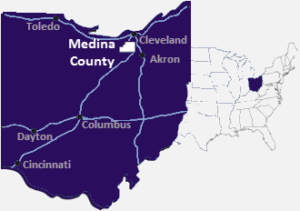 Strategically positioned midway between Cleveland and Akron, Medina County makes the most of its historic industrial and agricultural roots, integrating worldwide operations with thriving independent establishments.
Industry giants such as RPM International, MTD Products, and Westfield Insurance call Medina County home for their global headquarters, while other leading industries like Owens Corning and Parker Hannifin have positioned division operations here.  International business attraction efforts have resulted in locations by Swiss and Japanese-owned manufacturers serving the automobile industry.
Medina County has been the fastest growing county in Northern Ohio for the past two decades, due to an excellent local education system, a diverse business base and historically low unemployment rate.  Communities in Medina County are known for their quality of life designations, including Money magazine's "Top 100 Places to Live" and Ohio Magazine's "Best Hometown in Ohio."
Education is a priority in Medina County.  Unique among Ohio's 88 counties, Medina County uses sales tax proceeds to fund capital improvements in local school districts.  The County has also supported the construction of two university centers since 2008.  Workforce development needs are being met in branch locations of the University of Akron and Cuyahoga Community College.
Traditional economic development tools which include financing and property tax abatements have been enhanced by a major public infrastructure commitment from the Medina County Port Authority, which completed constructing a 151-mile fiber optic ring to meet industry's increasing need for abundant  broadband access in 2012.